About/Allergies/Testimonials
Crafty Creations Cakes have the privilege of being one of Sheffield's longest running cake businesses. What started out as a hobby making my own childrens birthday cakes, then progressed to supplying family and friends with cakes of all kinds. I decided it was time to turn my hobby into a small business. This has gone from strength to strength over the years into a now full time business. I have had the pleasure of meeting and making cakes for all kinds of people and subsequently also have many returning customers.
I always ensure that the best quality ingredients are used in my cakes and desserts, high quality flour, free range eggs, preserves and jams, best quality chocolate etc, they are also used in all other edible goods that I produce. It never leaves my thoughts that I would not sell anything that I myself would not buy. This in mind I try to strive for perfection in all I do.
I love my job and thankfully make many a customer very happy with the cake I make for them.
Ann Roberts Owner.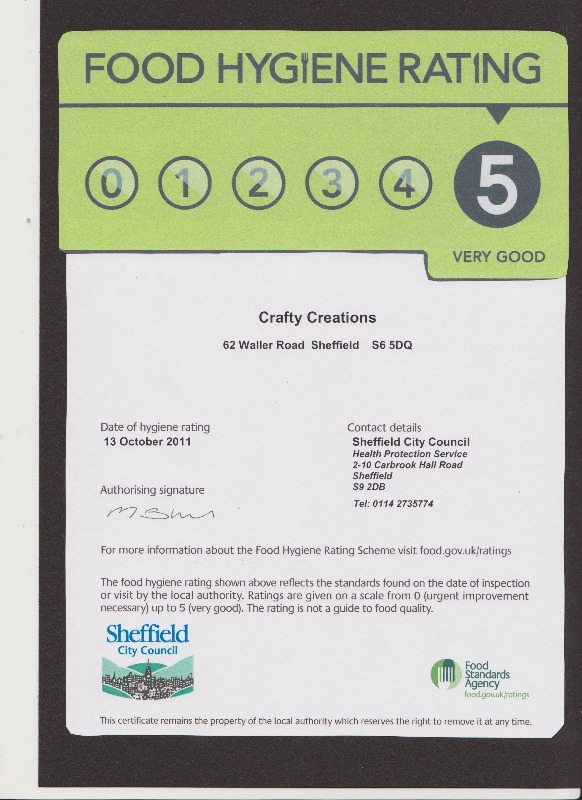 Registered with Sheffield City Council. Hold a 5* rating with the Environmental Health Department. Public Liability Insured & Hold a Food Hygiene Certficate Level 2.
+++++++++++++++++++++++++++++++++++++++++++++++++++++++++++++++++++++++++++
Allergies
Baked goods by Crafty Creations Cakes are not allergy free. They may contain, or contain traces of, dairy, eggs, nuts, peanuts, milk, wheat, soya or other likely allergens. It is your responsibility to ensure all recipients and consumers of the product are made fully aware of this information. Crafty Creations Cakes will not be held responsible for any allergic reactions to our products.
++++++++++++++++++++++++++++++++++++++++++++++++++++++++++++++++++++++++++++
Below are some of the lovely emails, cards and letters I have received from very happy customers.
Hi Ann, we would like to thank you for the lovely cake made for our wedding last Saturday. It looked georgeous and tasted equally as good. We had many comments saying how much they enjoyed it, and would be happy to recommend you to friends and family. With our thanks again Rachel and Graham.
Hi Ann, I just wanted to get in touch and say thank you for making our wedding cake, it was soooo delicious. We were more than impressed and had many, many compliments on it. Exactly as I wanted, every piece was eaten some people did''n''t even get a piece so I should have gotten an extra tier. I know this was really unusual for a wedding cake so that is a huge compliment to you!!!! Please do use me for a reference, for any future clients should they ask for one. I''d be more than willing to tell them how excellent you are. Take care. Jo Cooper.
Hi Ann, We all had a fantastastic day and we had so many lovely comments about your christening cake. Thankyou it looked lovely and tasted just as nice. Take care Kizzy and Karl.
Hi Ann, Just wanted to say thank you for the cake you made for our wedding on Saturday. It was perfect and looked stunning with the flowers on. Lots of people commented on how good it tasted. If you ever need a recommendation feel free to pass on my email. Thanks again. Louise and David.
Hi Ann, Here''s a few photos of the cake for you. Hope you don''t mind but the manager of the venue asked for your contact details so he can pass them on to anyone else who was planning a wedding reception with them and needed a cake. The cake was gorgeous, everyone said how lovely it was, so once again thank you very much. Regards Scott and Lisa.
Hi Ann, just to let you know that Laura loved the cake and it was delicious. Thank you very much Halley.
I know this is really late but I wanted to send you our thanks for doing such a great job with our wedding cake. The cake was really beautiful and soft, and looked fabulous. Many thanks Rach.
Hi Ann, Just wanted to say a big thank you for our daughters christening cake. It was lovely and was enjoyed by all. Will definately recommend you to anyone we can. Thanks again Warren, Lucy and Ava.
Dear Ann, just a quick note to thank you for making Harry Jack''s Christening Cake. It looked beautiful and tasted even better. All our friends and family complimented it and have asked for your details. Thanks again Kay.
Hiya Ann, the cake looks amazing. I will keep your details for my daughters birthday. Thankyou ever so much. Rebecca.
Thankyou so much for our wedding cake. It looked beautiful and everyone remarked how lovely it was. Lisa and Steve.
Just to say "Thank You" for the lovely wedding cake that you made for our wedding day. It looked beautiful and tasted even better. Kind regards Jillian and Andy.
Just a quick note to say thankyou for making our cake for our special day. It looked lovely and tasted delicious. With thanks and best wishes Richard and Nicky.
Hi Ann, just thought I would put you out of your misery and let you know that the cake topper has arrived, and it is fantastic!!!! Thankyou for all your help, I would recommend you to anyone, and will certainly be in touch again in the future for more requests. Thanks again Elina.
I would just like to say a huge thankyou for our wonderful wedding cake. It was perfect for our wedding. Thankyou again. Sarah and Chris.
Thank you for making the corsage so quickly I am very pleased with it. Take care Sue.
I would just like to say a big thankyou, as the birthday cake you made for Chris''s 30th party was lovely. He was delighted, and the cake was a big hit at his party. I would certainly recommend your services to friends and family. Sincere Thanks Lynne and Chris.
Hi Ann, just wanted to say a personal thankyou for the lovely, lovely cake topper. It was absolutely perfect. I just wanted to say that I will highly recommend your items to anyone I know looking for similar things. I really appreciate your jhard work and help. Many thanks Joan.
I just wanted to say thanks for the banana cake you made for me. Its incredible! This is the first cake that has been baked for me and I can honestly say that I can''t imagine it ever being surpassed. It looks fantastic and tastes even better. Once again thankyou very, very much, I''m extremely pleased. I''ll be sure to recommend you to all of my friends. Kind regards Craig.