About/Allergies/Terms/
Crafty Creations Cakes have the privilege of being one of Sheffield's longest running cake businesses. What started out as a hobby making my own childrens birthday cakes, then progressed to supplying family and friends with cakes of all kinds. I decided it was time to turn my hobby into a small business. This has gone from strength to strength over the years into a now full time business. I have had the pleasure of meeting and making cakes for all kinds of people and subsequently also have many returning customers.
I always ensure that the best quality ingredients are used in my cakes and desserts, high quality flour, free range eggs, preserves and jams, best quality chocolate etc, they are also used in all other edible goods that I produce. It never leaves my thoughts that I would not sell anything that I myself would not buy. This in mind I try to strive for perfection in all I do.
I love my job and thankfully make many a customer very happy with the cake I make for them.
Ann Roberts Owner.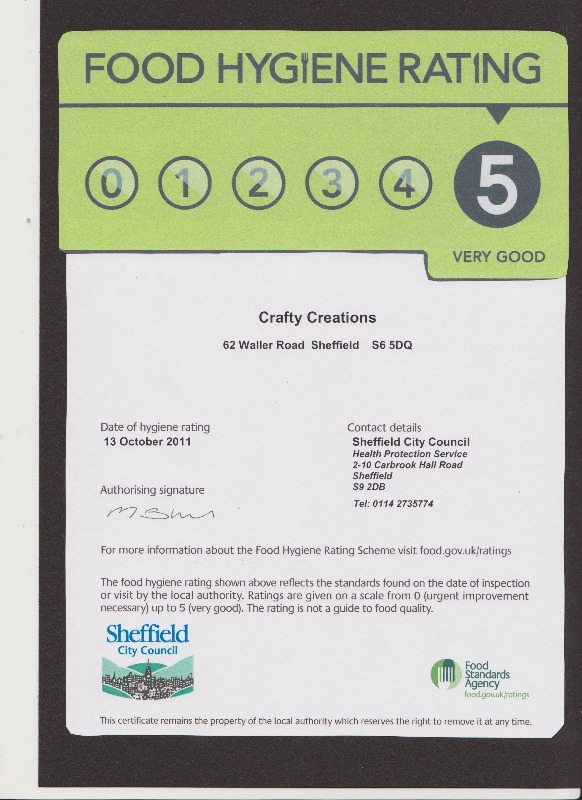 Registered with Sheffield City Council. Hold a 5* rating with the Environmental Health Department. Public Liability Insured & Hold a Food Hygiene Certficate Level 2.
Allergies
Baked goods by Crafty Creations Cakes are not allergy free. They may contain, or contain traces of, dairy, eggs, nuts, wheat, soya or other likely allergens. It is your responsibility to ensure all recipients and consumers of the product are made fully aware of this information. Crafty Creations Cakes will not be held responsible for any allergic reactions to our products
=======================================================================================================